BELONG TO YOUR PROFESSIONAL ASSOCIATION
Belonging to your professional association sets you apart from the competition by ascribing to a Code of Ethics, voluntarily investing & participating in a performance-driven networking group, and serving your industry through advocacy and community service.
Your fee is based on the number of years in the industry as a producer. One fee provides you membership at the local or affiliate level, state level and national association. Take advantage of programs & networking at all three levels for one fee.  Young advisors will benefit by making it in the business.  Seasoned members benefit from learning new ways to expand their book of business & influence.
Additionally, NAIFA offers an Associate Member category. Associate members receive many of the same benefits of membership but are limited in the ability to hold certain leadership roles.
OPPORTUNITIES AT THE STATE LEVEL
NAIFA-Rhode Island ties you in to advocacy on legislative and regulatory issues in Providence  that impact your business, your clients, and our industry. NAIFA Rhode Island holds an Annual Charitable Golf Tournament allowing members to network while supporting a worthwhile cause.  Your state chapter offers professional development programming that qualifies for CE credit and puts you in a network with peers who are close to home. 
Our Top Programs include:
Periodic webinar/virtual meeting on current topics
CE Programs
Legislative Updates
Charitable Golf Outing 
Annual Meeting
THE VALUE TO YOU
Make more money by working smarter through sales tips & mentoring
Build your partner network of advisors with complementary services
Build your centers of influence & personal/professional brand
Increase your enjoyment & pride in your business by giving back to your clients, community & country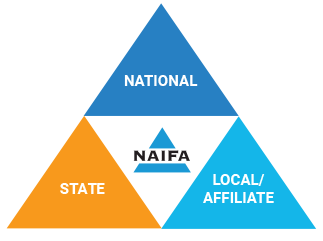 CONTACT NAIFA RI
Vincenzo S. Parente
President
401-432-8861
Jonathan P. Matrullo, MBA, LUTCF, LACP
Membership Chair
401-432-8808